If you want to add convenience and protection to your car or truck, drop by Ocala Car Audio and ask about our car alarm and remote starter systems. Whether you are worried about theft and vandalism or want to be able to cool your car off before driving, we have a variety of solutions available.
Car Alarms and Security Systems
Car alarms don't always offer the features and protection required to keep your vehicle and belongings safe. If you want to protect a set of aftermarket wheels or the tools in your work truck, visit Ocala Car Audio and let our product specialists design a full security system that addresses all available entry points with application-specific sensors.
For example, our digital tilt and motion sensors will sound an alarm if someone lifts your vehicle as little as one degree in an attempt to steal wheels or a catalytic converter. Our glass breakage and shock sensors will trigger the system if someone tries to steal an airbag or radio.
Remote Car Starter Systems
Getting into a hot car can be dangerous for children, the elderly or anyone with a respiratory condition like asthma. Adding a remote car starter to your vehicle allows you to start it with the simple push of a button from the convenience of your home or office. The air conditioning can run for five or 10 minutes to cool the interior and make your trip safer and more comfortable.
System Control Options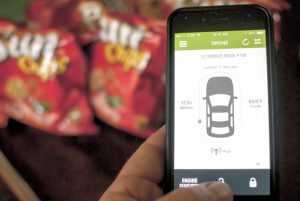 We have a variety of radio frequency remote controls with range options from 1,000 feet to 3 miles. Many remotes offer LEDs or an LCD screen to confirm that the vehicle has performed the function you requested.
Our app-based smartphone control solutions make it easy to lock, unlock and start your vehicle from almost anywhere using your iPhone or Android phone. You can even use these smartphone systems to keep track of your vehicle's location. These systems are perfect for company vehicles or when you let your kids borrow the family car.
Expert Installation Services
Our team of expert technicians works on automotive electrical systems every day. Truly, it's their specialty. They agonize over component mounting locations and wire routing paths to make sure that your system will function flawlessly for decades. Every electrical connection we make is soldered to ensure reliability and optimum signal transfer. In many applications, we offer vehicle-specific harnesses that are compatible with the electrical connectors in the vehicle.
Visit Ocala's Automotive Accessory Experts
If you are interested in adding an alarm, a custom security system or a remote start system to your vehicle, drop by Ocala Car Audio and talk to our team. We'll design a solution that includes the features you want and ensures that you can operate the vehicle from your home, office or when you are out shopping. For more information, give us a call at 352-512-9897 or send us an e-mail.