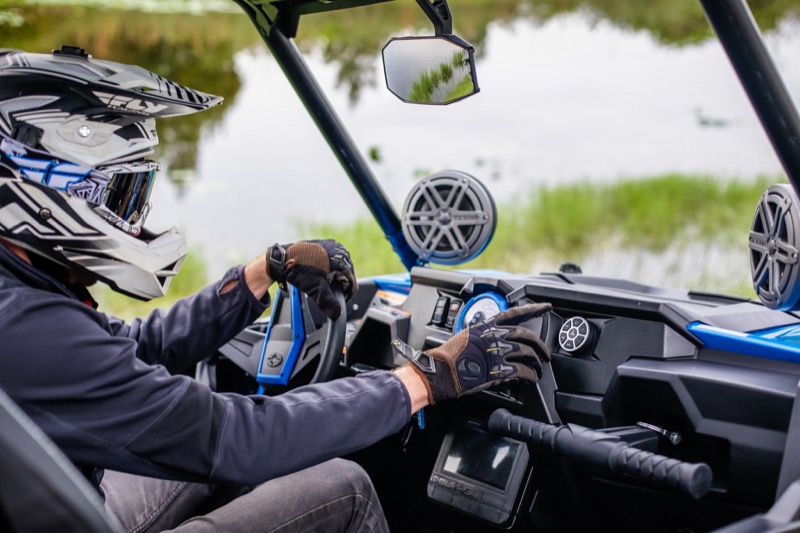 Ocala Car Audio is a leader in side-by-side audio and lighting. Our decades of experience in the marine world give us a good perspective on what it takes for a product and an installation to survive in an extreme environment on the water.
Whether you are looking for a basic sound system or want a concert in the wild, we have you covered. There is no reason to limit your riding to daylight since our lighting experts can offer you solutions that allow you to easily see all around you at night.
It Starts with Great Products
Drawing on our 30 years of experience in audio, our team has assembled what we feel is the best-value, highest-performing powersports audio products on the market. We have partnered with JL Audio and Rockford Fosgate, two legendary brands in the audio industry.
What separates our products from the competition is they are not car audio products that have been painted different colors. Rather, they have been designed from the ground up to handle the dirt, sand, water and vibration experienced by a side-by-side on a daily basis. Ocala has overhead sound bars with integrated amplifiers and Bluetooth modules for a simple solution, or can offer you custom enclosures, speakers, source units and amplifiers that will make your vehicle sound incredible.
System Approach is Key
Another area where we are different is our complete system approach to design. One of our team will get together with you and your side-by-side, look it over, and then listen as you tell us how it gets used. At that point, we design a solution completely catered to your needs. We factor important considerations like alternator-charging capability, the overall size of the product and ease of use into all of our designs for clients. You end up with a better-sounding system that works best for you.
Installs Designed to Last
Once you have chosen the product, you want a shop that can do an installation designed to last. We use reference-standard methods for all powersports vehicles, including soldering and heat-shrinking all connections. Our staff will neatly loom and securely mount all wiring to allow for easy servicing of the vehicle. We choose locations for products to maximize sound quality and ease of operation by the occupants. Even the install materials we use are better.
In short, if you want it done right the first time, come see us.
Never Overdrive Your Headlights Again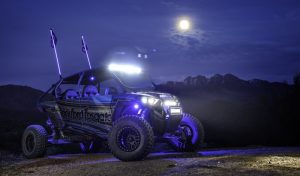 The first time you drive your vehicle at night, you recognize that your lighting needs help. Lots of it. Fortunately, the team at Ocala Car Audio offers cutting-edge lighting from famous brands like Rigid and Piaa that is designed to last while giving you better performance.
Nowadays, there are lots of inexpensive LED options on the market, but their inferior optics and low build quality end up letting you down when you need them most. Our staff will work with you to outfit your Polaris, CanAm or whatever you drive with a lighting upgrade that makes your night-time driving safe and enjoyable.
Maybe you are the kind of person who would like some LED accent lighting to make your side-by-side stand out. We have you covered there as well.
Get a Side-By-Side Audio Consultation Today
The final step in outfitting your side-by-side with an audio system or lighting upgrade is scheduling a consultation with Ocala Car Audio. You can simply click HERE or stop by with it at your convenience. Our highly trained team will look it over with you and listen as you explain how you use it. We will design a solution completely tailored to your unique needs. Let us show you why year after year, more and more people choose us.