The sun, the sand, and the fairways are a way of life here in Florida. Many clients choose Ocala Car Audio in Ocala, Florida, for their Golf Cart audio solutions. We can handle anything from installing a radio and a pair of speakers…to something wild with multiple amplifiers, speakers and even a subwoofer or two! Whatever you need for the fairways, the roads of your neighborhood, or the racetrack, we are your golf cart audio experts.
Premium Golf Car Audio Solutions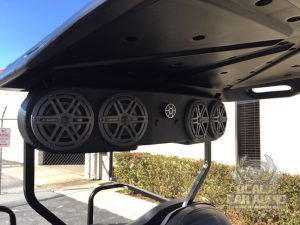 Ocala Car Audio offers premium brands like JL Audio that are designed to shrug off the worst weather Mother Nature can throw their way. Rain or harsh UV rays have no effect on these products. The design of the source units, speakers, amplifiers and subwoofers we offer ensures that they sound great in open spaces, like your golf cart.
We can add a pair of speaker enclosures, a weather resistant amplifier and even a Bluetooth receiver to create an audio system that works with the music on your smartphone. We also have SiriusXM satellite radio solutions that let you enjoy genre-specific music anywhere you want.
Lighting and Accessories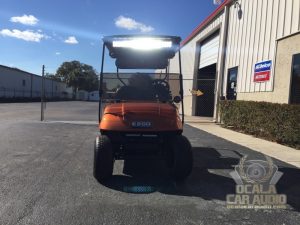 Accent lighting is a very popular option for golf cart owners who want to personalize their vehicle. We offer multi-color RGB LED lighting for underneath the cart, in the wheel wells or under the dash. If you need to be able to see better at night, then we can install LED forward lighting or upgrade existing light fixtures with high-power bulbs.
Do you need a place to plug in your cell phone? We can add a high-current USB port or two to make topping-off the battery on your phone quick and easy. We can even source and install a 120V outlet to power your laptop to keep you working, even while you are playing.
Many cart owners simply need some help installing the accessories they want. A new top, a custom dash, a customer color-match carpet kit or maybe a rear seat kit. Let us know what you need, and our technicians can make it happen, quickly and reliably.
Award Winning Service
Ocala Car Audio has been in business for nice years, proudly serving the Ocala, Marion County, "The Villages" and Central Florida. Our team of experts has more than 150 years of combined experience in the mobile electronics industry, so you know you are in good hands from the moment you walk in the door. Our goal is to provide every customer with a personalized solution that caters to your needs and exceeds your expectations.
We invite you to drop by our store and talk with our team of experts. Our interactive displays can help you visualize our plan for your golf cart, or any other vehicle you may bring us. For more information about any of our products or services, feel free to call us at 352-512-9897, or you can reach us using our online contact form located HERE.