Ocala Car Audio is your motorcycle audio expert. Since the beginning of our company, our team has been focused on offering the best-sounding, most-reliable stereo upgrades to bike enthusiasts. We are riders ourselves, so we understand the feeling you get when you throw a leg over your bike and head off down the road. All the stresses of normal life start to melt away as you enjoy time in the saddle. What makes the ride more enjoyable? Great-sounding music, of course!
Speaker Upgrades Improve the Sound Quality of Your Music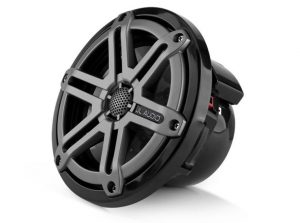 When you want to make the audio system on your bike sound better, the first place to start is upgrading and possibly adding more speakers. The team at Ocala has a wide variety of speakers designed to take the abuse of life on the road. Things like dust, dirt, vibration and moisture can wreak havoc on a normal speaker, so you want a product that not only sounds great, but will be reliable for years to come. We can often upgrade your bike to a larger speaker size or discuss adding extra speakers to your motorcycle to get the sound you desire.
Amplifiers Give You the Volume You Need
Have you ever noticed that you can hear your stereo when you are sitting still, but you need a lot more volume when riding up the road at speed? The solution to that problem is power. And power comes from an amplifier. It is the heartbeat of your audio system.
Ocala Car Audio has many different sizes and configurations of amplifiers to suit any need you may have. Being motorcycle experts, we understand the limited charging capacity of your bike, so we will spec out an amplifier that will work perfectly for your needs.
New Source Units Can Give You the Features You Desire

If your bike has a little age to it, chances are it lacks things like Bluetooth for music streaming or USB ports for your portable media devices. The good news is that Ocala has replacement stereo systems that can give you all the technology you need while providing the sound quality and reliability you want. If you own a 98-13 Harley, for instance, we have direct replacement head units that work perfectly with your factory stereo controls and look beautiful in the fairing.
We Are Motorcycle Audio Experts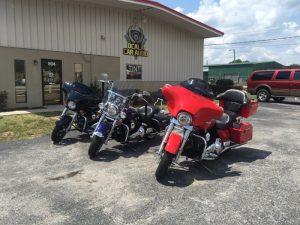 Once you have decided that it is time to upgrade your motorcycle audio system, you want a company that is made up of audio experts, not a company that specializes in chrome parts or custom paint jobs. Ocala doesn't do motor work and we don't do suspension work. We build great-sounding audio systems because that is what we live and breathe every day. When you couple our expertise with our unmatched installation quality, you have a recipe for success.
Ride Over and See Us
The next step is to hop on your bike and ride over to Ocala Car Audio in bright, sunny Ocala for yourself. Our highly trained staff will look over your bike with you and listen as you explain your goals for upgrades. We will offer our advice, honed over years and years, and together we will come up with a solution that best fits your unique needs.
Let us show you why more and more people every year choose us for their motorcycle audio systems. You can also contact us by clicking HERE.