When it comes to motorcycle audio installation, Ocala Car Audio in Marion County is an expert. Installing and modifying motorcycle sound systems has been a way of life for the staff at Ocala for nearly a decade. Owner Parish Tanner grew up riding motorcycles. In fact, his entire family rides whenever they get a chance. We don't just talk about motorcycle audio; we live it.
Premium Motorcycle Audio Products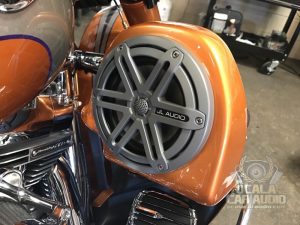 Our experience in designing and installing motorcycle audio upgrades is an extension of our marine audio system experience. The vibration and sound level challenges are similar in both applications. Obviously, motorcycles offer significantly less space for speakers and equipment. Our team has tried most of the solutions available and knows what speakers and amplifiers work to deliver amazing sound, even when the throttle is cranked wide open. Our motorcycle audio products can handle sun exposure and harsh vibrations from the biggest engines. They shrug off rain, dust and dirt. We have high-power amplifiers that are compact and efficient, and our speaker upgrades can handle the power from that new amplifier so you can crank your system and enjoy it for hours.
Expert Installation and Integration Services
The materials and techniques we use to upgrade the audio system on your motorcycle are as important as the products we choose. Wiring, fasteners, connectors and harnesses all need to provide the same level of performance and reliability we expect from speakers, amplifiers and source units. How we make electrical connections, route wiring and even the way we protect the finish on your bike are carefully planned to ensure your upgrade experience brings you countless hours of trouble-free entertainment.
Full-Time Mobile Electronics Specialists
One topic that comes up frequently with our motorcycle clients are the audio upgrades that can be purchased and installed at shows throughout the year. Both the Sturgis Motorcycle Rally and Daytona Bike Week see vendors from all over the country celebrating every aspect of the motorcycle culture. We see many "pop-up" retailers selling and installing sound system upgrades at the shows. While some of these systems perform well, some are mediocre. Our biggest concern is after-sales service. If you have a problem with anything we've installed, you can call the shop and we'll schedule an appointment to resolve the issue. If you've purchased speakers or an amplifier at the show, where will you go if you need help? Some show vendors go so far as to relabel products under their name. These modifications void the warranty on those units. We service what we sell.
Ocala's Motorcycle Audio Installation Experts
When it's time to upgrade the sound system on your bike, drop into Ocala Car Audio and speak with one of our motorcycle audio installation experts. We would be happy to demonstrate the systems on our bikes and develop a custom solution for your cruiser. From a new set of speakers in a fairing or saddlebag to custom speaker pods on your highway bars, our team will ensure your music sounds great at any reasonable speed. You can call us at 352-512-9897 or send us an e-mail using our online contact FORM at any time for answers to questions about our products and services. We look forward to hearing from you!