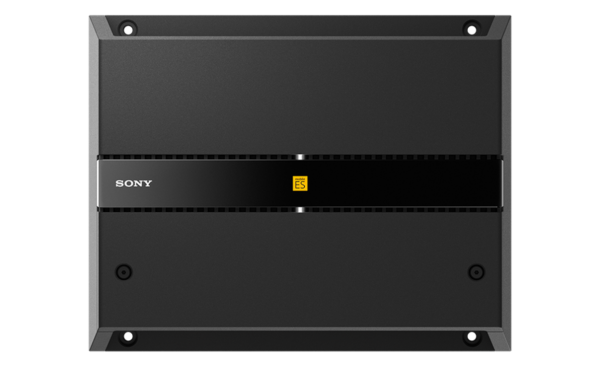 If you're shopping for a premium amplifier for your car audio subwoofer system, drop by Ocala Car Audio and ask about the new Sony XM-1ES. As part of the premium Mobile ES series, the XM-1ES is designed to deliver up to 1,000 watts of power, with impressive sound quality and all the features we'll need to integrate the amp into your vehicle. Let's check it out!
Sony XM-1ES Subwoofer Amplifier Features
The XM-1ES is rated to produce up to 600 watts of power into a 4-ohm load and an impressive 1,000 watts when connected to a 2-ohm load. The amplifier uses state-of-the-art Class D circuitry to deliver this power efficiently and reliably without creating a lot of heat from wasted energy. The frequency response is 10 Hz to 500 Hz, and the signal-to-noise ratio is good and low at 77 dB. All of the specifications Sony provides are compliant with the CTA-2006-C standards, so you know the numbers are believable and comparable to other brands using the same guidelines.
The RCA jacks will accept up to 8 volts of signal in the low-voltage mode and an impressive 16 volts in the high-voltage mode to make it compatible with most factory source units. The amp has an adjustable low-pass crossover with a steep 24 dB/octave slope. There's also an infrasonic filter that's adjustable between 5 and 50 hertz. Sony includes a great-looking remote level control that we can install in the front of your vehicle to make it easy to fine-tune the bass level to whatever music you are enjoying or your mood.
Internally, the amp uses premium quality components, including low-ESR capacitors and shielded inductors on the speaker outputs. Sony took extra care with the chassis design to ensure that the amp will continue playing even on the hottest days by including a cooling fan in the back corner. The chassis also features a resonance-damped design to prevent unwanted vibrations from affecting the audio circuitry.
Ocala's Best Car Audio Upgrades
If you're looking for a great amplifier to power the subwoofers in your car, truck or SUV, drop by Ocala Car Audio and ask about the Sony XM-1ES mono subwoofer amplifier. We can help you choose premium subwoofers and the perfect enclosure to go with them. We'd be happy to provide you with a quote to integrate the entire system into your vehicle to ensure it will sound fantastic. If you have any questions and can't get to our store during regular business hours, feel free to give us a call or use our contact page to send our team an email.