The Sony XM-5ES five-channel car audio amplifier from Ocala Car Audio is an excellent solution to power your entire car audio system. With up to 165 watts of power available to the main channels and a hefty 750 watts for a subwoofer, there's no concern that this amp won't be loud enough to recreate your favorite concert experience on your next drive.
Features of the Sony XM-5ES Car Audio Amplifier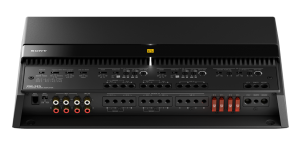 The XM-5ES is based on a cast aluminum heatsink that measures just under 15 by 8.5 inches and stands 2.36 inches tall. All the signal, power and speaker connections are along the front edge to make it easy for us to install. The four main amp channels are rated to deliver 100 watts of power into 4-ohm speakers and 165 watts into 2-ohm drivers. The subwoofer channel can produce up to 450 watts into a 4-ohm sub and 750 watts into a 2-ohm driver. We can bridge the front channels to provide 330 watts into a pair of 4-ohm drivers if you need a high-power three-channel amp. Sony included a cooling fan to ensure that the amp will continue playing on even the hottest Florida days.
The amp includes high-, low and even bandpass crossovers on the main channels and an adjustable low-pass filter in the subwoofer channel. We can use the infrasonic filter to protect subs in ported boxes from excursion issues at low frequencies. Sony included remote turn-on detection circuitry in the amp so it will turn on automatically when installed with a factory source unit. Likewise, the amp includes a high-level input switch so that we can connect a factory-installed radio to the amp without the need for an interface. A remote bass level control is included with the amp to let you fine-tune the sub's output to suit your music or listening preferences.
High-Resolution Audio Support
If you're fanatical about sound quality, you'll be happy to hear that the Sony XM-5ES offers frequency response that extends to 40 kHz to ensure that your favorite high-resolution music is reproduced with clarity and detail. The amp has a distortion rating of 0.05%, and the signal-to-noise ratio is specified as -77 dBA.
Upgrade Your Car Stereo at Ocala Car Audio Today!
If you need a great amp to power the front and rear speakers and subwoofer in your car, truck or SUV, drop into Ocala Car Audio and ask about the Sony XM-5ES five-channel car audio amplifier. Our team of expert installation technicians is available to integrate the amp into your vehicle and configure everything so it will play loudly and sound amazing! If you can't visit our store during regular business hours, feel free to give us a call or use our contact page to send our team an email.