Recently, a disabled Veteran client of Ocala Car Audio was at the shop, and we were talking about ways to support our Veterans. The client is an active member in several Veterans groups including the Wounded Warrior Project. He mentioned an article posted by the US Department of Veteran Affairs that reports an average of 20 Vets die by suicide every day. Frustrated with this information and concerned about how our Veterans are cared for, we came up with a plan to give away a Harley-Davidson motorcycle to a local Vet. We sincerely hope that it will lift their spirit and improve their life.
Harley-Davidson Motorcycle Giveaway
Our founder, Parish Tanner, is an avid biker. He not only owns and rides several Harleys, but he is an avid member of the motorcycle community. The bike is a 1991 Harley-Davidson FLHT that was purchased by Ocala Car Audio. It is being restored and upgraded thanks to the generous product, service and financial support of the following local businesses:
A1 Transmission
Del Zotto Products
First and Last Tab
GradeWorx
Mojos Grill
NPI Property Inspectors
Ocala Car Audio
PaintWorx
Shop 42
The Tilted Kilt Pub
Volthom Electric
Walden Direct Primary Care
The engine and six-speed transmission from a 2007 Street Glide will replace the original unit on the FHLT. The bike will receive a new wiring harness and new paint job to complete the refresh. The FLHT will be given away at the Tilted Kilt Pub at the last bike night of the year on November 3, 2018.
Additional Efforts to Support our Veterans
The bike giveaway is just part of the Ocala community plan to support our Veterans. We are also helping with the restoration and rehabilitation of a 1996 Nissan pickup truck that will be given away to another Veteran at The Mojo Grill and Catering Company on November 12 of this year.
In addition, Walden Direct Primary Care is donating six months of supplemental primary care to two Veterans. While this doesn't replace the VA, this service makes accessing medical assistance easier and more convenient.
Finally, Ocala Car Audio has implemented a program where we will pay the sales taxes on any purchase Veterans make at our store. When a Veteran comes in, we'll create a credit line item at the end of their invoice that is equal to the tax they would normally have to pay. All they need to do is show us proof that they are a Veteran. Drop by the store for details.
Passionate About the Ocala Community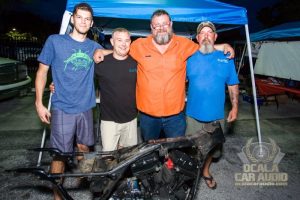 If you follow Parish on Social Media, it's clear that he is passionate about Ocala and Marion County. Parish said "Our Vets must be respected and honored, and never discarded or forgotten. They are the men and women who put their lives in harm's way and allow us to live the lives we do." If you are interested in our project to support our Veterans through the Harley-Davidson FLHT or Nissan truck giveaway, drop by Ocala Car Audio and speak with Parish or send an e-mail using our contact page.
If you are a Veteran, or a family member of a Veteran in crisis, please call the Veterans Crisis Line at 1-800-273-8255 and Press 1 to receive confidential support 24 hours a day, 7 days a week, 365 days a year.