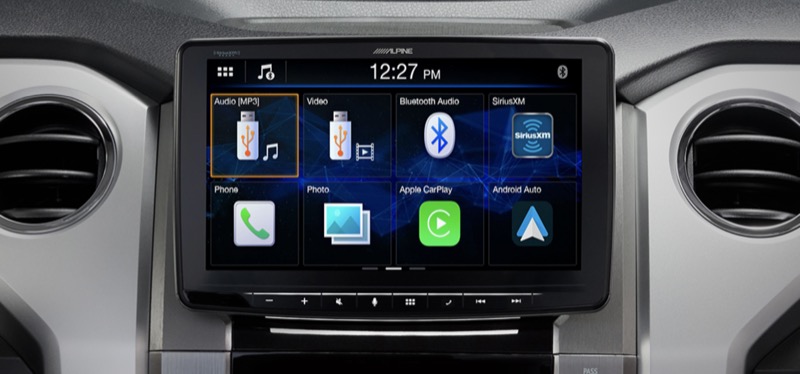 Ocala Car Audio is proud to introduce the next generation of Alpine Halo 9 source units with the new iLX-F259. Equipped with a 9-inch floating-design touchscreen that sits just in front of your dash like in a Mercedes-Benz or Mazda, this impressive multimedia receiver includes Android Auto and Apple CarPlay smartphone connectivity and support for a variety of digital media file formats. Let's take a closer look.
The Amazing Alpine Halo 9 Design
One of the biggest challenges for someone wanting to upgrade the radio in their car or truck has been to find a mounting solution for a double-DIN multimedia receiver. The product specialists at Alpine overcame this roadblock with the floating-screen design of the Halo 9 source units. Equipped with a single-DIN chassis, the 9-inch touchscreen mounts in front of the radio location and is adjustable for height, mounting angle and distance from the dash for a clean and tidy look.
Alpine iLX-F259 Features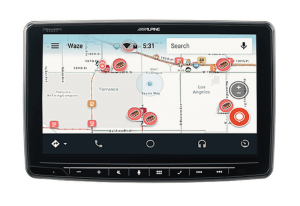 At the heart of the F259 is Android Auto and Apple CarPlay smartphone integration. This voice-controlled interface makes it easy to place phone calls, send text messages and choose music streaming services without having to touch the screen or take your eyes off the road. The USB port will play MP3, WMA, AAC and FLAC files as well as AVI and MPEG4 video files stored on a USB memory stick. With SiriusXM compatibility, you can have us add the SXV300v1 satellite radio tuner when we install the unit so that you can enjoy your favorite genre of music anywhere in the country without interruption.
Connectivity Options
The F259 includes an HDMI input on the back so you can connect an external video source like an overhead monitor, your laptop, a compact computer or a game system. A dedicated rear-vision camera input makes it easier and safer to park or maneuver your vehicle. The camera image appears automatically without the need to press any buttons as soon as you put the vehicle transmission in reverse.
See the Latest Alpine Halo Products Today!
If you are interested in the Alpine iLX-F259, drop into Ocala Car Audio and speak with one of our Product Specialists. You can also reach us by e-mail using our online contact page for more information about our products or services.