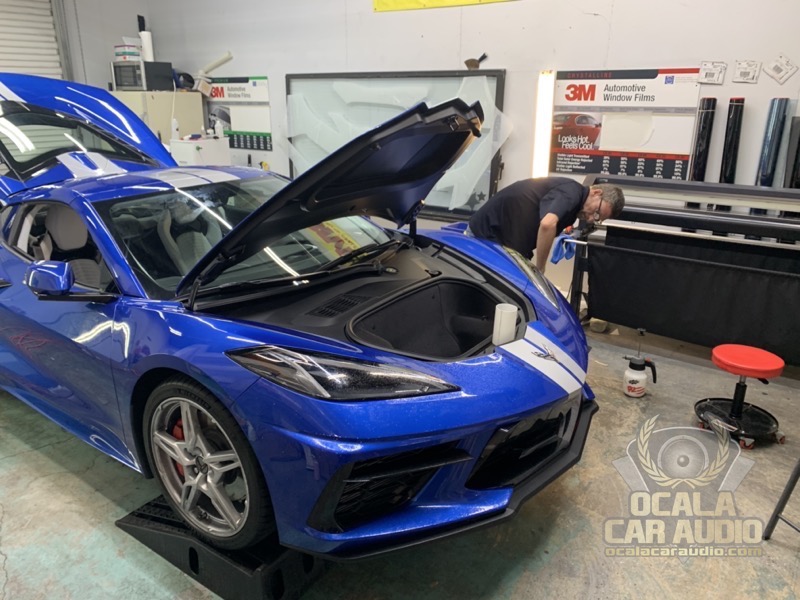 A local client recently brought his 2020 Chevrolet Corvette to Ocala Car Audio for a paint protection film installation. This Corvette is finished in the Elkhart Lake Blue paint. The client didn't want stone chips or scuffs to take away from the vehicle's look and value. After a quick inspection of the car and a discussion about which surfaces he wanted us to protect, we put together a quote to keep this Stingray looking amazing.
Corvette Paint Protection Film Maintains Value
3M Scotchgard Paint Protection Film Pro is a layer of clear urethane that's applied directly to the vehicle. The film is 0.008 inch thick and has a smooth, high-gloss finish. Once installed, it's almost impossible to see. The urethane construction absorbs impacts from stones, gravel and rocks and helps to resist stains from road tar and bug splatter. The film also has hydrophobic properties that help make keeping the vehicle clean easier. Even more impressive, the film's self-healing properties will absorb light scuffs when exposed to some heat. Heat isn't a problem here in Florida.
Our team used our computer-controlled plotter to cut out film pieces to fit the hood, fenders, mirror backs, front bumper and headlights. We cleaned and prepped each panel before applying a slip agent that lets us position the film correctly. As a result of not cutting the film on the vehicle, there's no risk of the paint getting nicked or scratched during the installation process. Once the film is positioned perfectly, we use a squeegee to remove the slip agent from between the film and paint to bond securely.
Ocala's Paint Film and Window Tint Experts
Wrapping the front bump took some time to get the Corvette wrapped with the 3M paint film. We always start with any body panel with convex curves to ensure that the film remains adequately adhered. These are the most challenging panels to wrap, and we need them to look perfect.
Once the car was finished, the client returned to Ocala Car Audio. When the client picked up up the car, he was impressed with how perfectly each piece of the film fit, and he loved that it was invisible. We gave him the paperwork he needed to activate the 10-year warranty from 3M and reviewed how to take care of the vehicle to maintain its appearance. In all, he was thrilled with the project.
If you'd like to keep your car or truck looking like new and avoid the annoyance of touch-ups, drop by our store and speak with one of our Product Specialists. We'd be happy to provide a quote to apply paint protection film to your vehicle. For more information or to schedule a consultation, give us a call or send our team an e-mail using our contact form.