A client from Lady Lake contacted Ocala Car Audio in search of upgrades for his 2017 Ford F-450. He wanted to improve the stereo system and lighting. After meeting with the client and discussing how he liked to listen to his music, and what light upgrades he wanted, we worked together to devise an upgrade plan that would meet his performance goals.
Ford F-450 Stereo System Upgrade
Ford sound systems can be difficult to upgrade reliably. We started the project with a PAC AmpPro AP4-FD21 interface that replaced the factory amplifier and its associated headaches. We installed the remote bass level control from the PAC interface in the overhead console. A JL Audio HD600/5 five-channel amplifier powers the system.
After removing the factory door speakers, we made adapter plates out of ABS plastic to hold a set of JL Audio C5-650X component woofers. We treated the door skins with a layer of Stinger RoadKill Expert sound deadening before mounting the adapters with corrosion-resistant factory hardware.
Custom F-450 Subwoofer Enclosure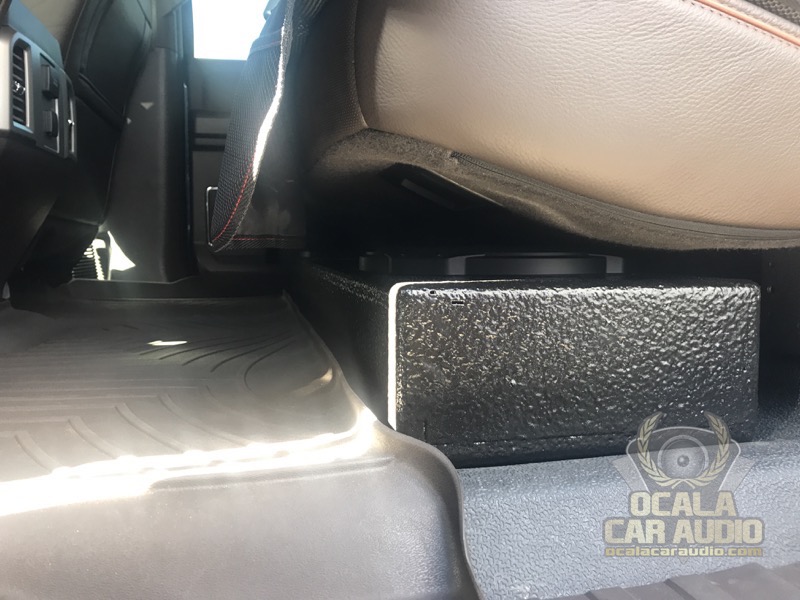 As this is a work truck, it has a rubber floor instead of carpet. We built a subwoofer enclosure for a JL Audio 10TW3-D8 that fits under the rear seat. To complement the durability of the enclosure, we sprayed it in bedliner rather than wrapping it in carpet.
Work Truck Lighting Upgrades
We mounted a set of Rigid Industries 906512 6-inch SR series lights underneath the heavy-duty tow bar bracket. The lights are wired to come on with the factory reverse lights from a switch in the factory overhead accessory panel. A set of Rigid rock lights light up the wheel wells and add safety while working around the truck at night.
We added a set of Whelen Engineering T-Series amber and white LED strobes to the truck. We mounted one pair just above the upgraded rear bumper. We added another set on the sides of the truck's frame to increase visibility from the sides.
The icing on the cake is a Rigid Industries RDS-Series 40" curved light bar. The LED light bar is mounted inside an opening in the custom-painted Rogue Racing front bumper. We added a Warn Zeon 12-S Platinum winch to provide a little extra persuasion when required.
Ford F-450 Stereo and Lighting Upgrades
When the client returned to Ocala Car Audio to pick up his truck, he was ecstatic! He loved the way the stereo sounded and was so excited to see the lighting at night. If you are looking for upgrades for your work truck, or your daily drive, drop into our store and talk to our team. You can also e-mail us using our contact FORM.