If you want an impressive radio upgrade for your 2014 or newer Harley-Davidson touring motorcycle, drop by Ocala Car Audio and ask about the Soundstream Reserve HDHU.14+. This multimedia receiver is a direct drop-in replacement for the Boom! Box radio and adds Apple CarPlay and Android Auto smartphone connectivity and much more to make your riding time more enjoyable.
Features of the Soundstream Reserve HDHU.14+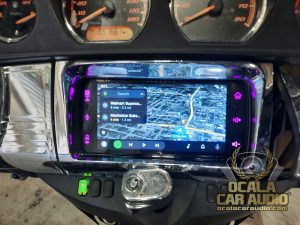 The folks at Soundstream created the HDHU.14+ to make upgrading the sound system on your Harley-Davidson touring bike easy and reliable. This new radio bolts directly to the fairing and plugs right into the factory wiring, including the original equipment antenna and USB plug connections. We can add the optional HDHU.14CM interface to allow the stereo system controls on the handlebars to work with the new radio.
The HDHU.14+ is based around an optically bonded 7-inch touchscreen integrated into an IPX5-rated water-resistant front panel. The bright display can show maps from Google, Waze or Apple Maps from CarPlay and Android Auto. You can connect a USB memory stick as large as 64 GB to play MP3, WMA, AAC or FLAC audio files. Bluetooth audio streaming is also included, so listening to Spotify, Pandora, iHeartRadio or Amazon Music from your smartphone is easy.
Improved Audio System Performance
Using the factory-installed Boom! Box radio, with its radical built-in equalization curves, can result in unpredictable performance when fed to high-power amplifiers. The Soundstream Reserve HDHU.14+ has dedicated front, rear and subwoofer preamp outputs that produce 4 volts. This clean signal will make your speakers sound the very best they can.
If you aren't using new amplifiers, the HDHU.14+ is equipped with a larger-than-normal 50-watt-per-channel amplifier that's 2-ohm stable. This radio will sound much better than the stock Harley-Davidson solution.
For the ultimate fine-tuning, the HDHU.14+ includes a 10-band graphic equalizer that we can use to calibrate the sound system for your listening preferences.
Ocala Car Audio Offers the Best Motorcycle Audio System Upgrades
The HDHU.14+ is a direct bolt-in solution for 2014 and newer Street Glide, Electra Glide and Electra Glide Ultra Classic and 2015 and newer Road Glide and Road Glide Ultra motorcycles. Our team of motorcycle upgrade experts is available to complete the integration for you so you can get back out on the road and enjoy some wind therapy. Drop by Ocala Car Audio and ask for a demonstration of the Soundstream HDHU.14+ today. You can also reach us by phone or email using our contact form for more information.