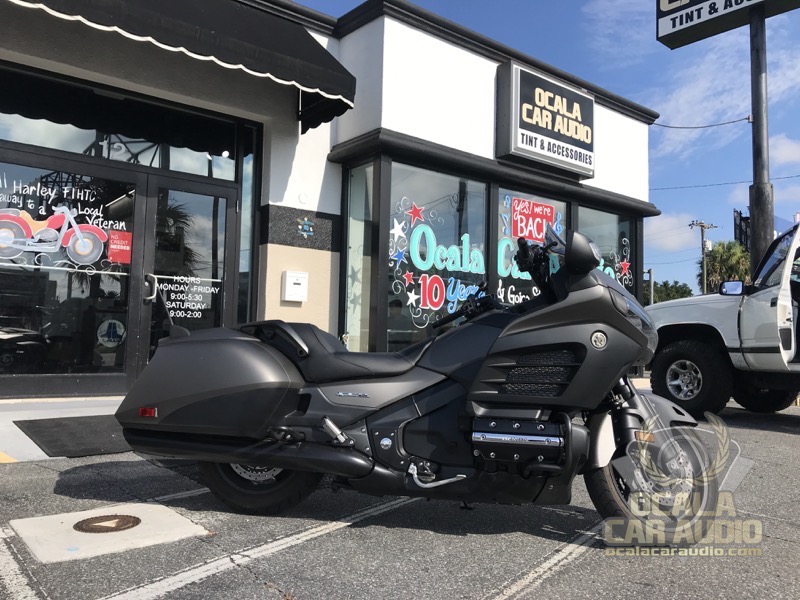 A client from Dade City recently dropped into Ocala Car Audio to discuss upgrading his 2016 Honda Gold Wing stereo system. The client found our shop through our website and was impressed with the reviews he had seen. He called and talked to a member of our team to get some basic questions answered before deciding to take the 70-mile ride to see us. Our founder, Parish Tanner, met with the client and checked out his trunkless F6B Honda cruiser to get a feel for what he liked about the system and what he wanted to improve. Armed with a thorough understanding of his goals, Parish created a proposal that would give him the performance he wanted.
Gold Wing Speaker Upgrade
We started by removing the factory speakers from the fairing of the Gold Wing to make way for a set of Hertz MPK 130.3 Pro 5¼-inch components. We removed the factory-installed midrange and tweeter, then flushed the new Hertz tweeter into the grille in the fairing. We offered the option of upgrading to a larger 6.5-inch speaker, but the client wanted to keep the project simple. The installation of 6.5-inch speakers would have required extensive and costly modifications.
Honda Gold Wing Stereo System Amplifier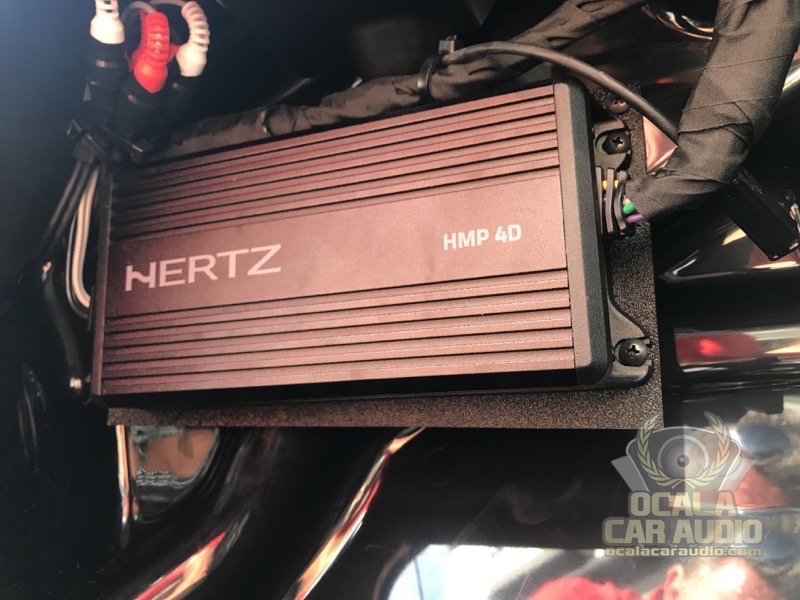 The second part of the upgrade was to add a Hertz HMP 4D powersports amplifier to the bike. Our team created an ABS plastic mounting adapter for the amp and secured it to one of the saddlebags on the bike. We used T-Spec power and signal wire to install the amp.
Since we were using the factory source unit as part of the upgrade, we needed to implement a high-quality line-level adapter to extract a full-range audio signal. We used a PAC LOCPRO LP7-2 line output converter to take the signal from the radio and lower the voltage to a level that the new amp would accept. The LP7-2 automatically creates a remote turn-on signal to activate the amp as soon as the factory radio turns on. This connection simplifies the installation and ensures everything will function seamlessly.
The amp is configured in a two-channel mode and is capable of delivering as much as 150 watts to each of the speaker sets. That is roughly seven times as much power as the factory amplifier and will ensure the sound system rocks, even at freeway speeds.
Marion County's Motorcycle Audio Specialists
With the system installed and the amp tuned to work with the new Hertz speakers and the factory radio, it was time for the client to return to Ocala Car Audio to hear his new Honda Gold Wing stereo system. He loves the way it sounds! If you are interested in upgrading your motorcycle's audio system, drop by, give us a call or send us an e-mail.