Ocala Car Audio has been a specialist in window tint since our inception. Our goal is to provide the best-value, highest-performing products to our clients at multiple price points.
Many people think all tint is created equal, but that couldn't be further from the truth. Follow along with us as we explore the advantages of buying a high-heat-rejection window tint.
Your Vehicle Will Be Noticeably Cooler in the Florida Summer
We all know it gets hot in the summer in Florida. Think of how often you walk out to your vehicle on a hot summer day and feel a blast of hot air escaping the instant you open the door. Who wants to get in there and drive away? No one. What you are experiencing is called the "greenhouse effect," where the sun's infrared heat rays heat up the air inside your vehicle, making it unbearable.
The good news is we can help. Our 3M Color Stable and Crystalline tint were designed from the ground up to reduce the sun's heat effect on your vehicle dramatically. Here's an eye-opening fact for you: Our Crystalline tint blocks 70% more heat than a basic film! If you think buying just any window tint is going to make a big difference in heat rejection, you will be sorely disappointed on that first hot day.
Our High-heat-rejection Film Won't Fade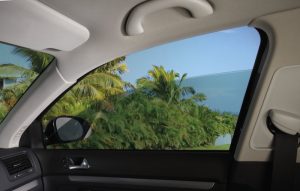 We have all driven along and seen vehicles tinted with what looks like purple film. That film started out looking black and faded over time as the dye inside it went bad from sun exposure. Some of these cheaper films can turn purple in as little as six months. Our Color Stable and Crystalline film isn't dyed films, so they can't turn purple. What that means to you is a tint job that looks just as good in three years as the day you bought it.
No Worries about Big Bubble Syndrome
What is Big Bubble Syndrome? Have you ever noticed a tint job that had huge bubbles on it? We call that Big Bubble Syndrome. It happens when someone buys inexpensive window tint and the layers start to separate or delaminate from exposure to the sun. There's no need to worry about that at Ocala Car Audio since our 3M films are the finest quality on the market and will never delaminate.
Stop In and See Us
The best way to buy window tint is in person. If you come to our shop, that will allow us to get to know you and your needs better and let you feel the difference in heat rejection levels on our interactive display. Let us show you why people all around Ocala choose Ocala Car Audio for their window tinting. You can also contact us by clicking HERE. Don't forget to follow us on Facebook and Instagram!