When it comes to keeping the carpet in your new car or truck looking like new, no product on the market offers better protection than a set of WeatherTech FloorLiners from Ocala Car Audio. These floor mats are designed and constructed to match the contour of the floor of the vehicle for a perfect fit that will keep dirt, sand and debris away from your carpet. Let's look at what makes these floor mats the best.
Custom Designed For Each Application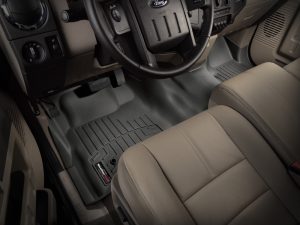 WeatherTech is based in Bolingbrook, Illinois, and its people work hard to make sure that the materials and products they sell use American resources wherever possible. Each FloorLiner application starts with a three-dimensional laser scan of the vehicle. The scan includes the location of retaining clips, fuel door and trunk release levers, the dead pedal and the contour of the floor. WeatherTech's team of engineers takes this scan and creates a model of the vehicle interior. From that, they design a floor mat that offers as much protection as reasonably possible. The sides of the mat extend up the firewall and center hump of the vehicle, as well as into the door sills in many applications. The goal is to provide as much coverage and protection as possible.
Premium Materials Ensure Excellent Reliability
Each floor mat is injection molded using nationally sourced materials to create WeatherTech's proprietary thermopolyolefin (TPO) synthetic rubber. This material stays durable on the hottest of Florida summer days and can withstand a trip to New York or Maine on the coldest days of winter. The surface of WeatherTech FloorLiners has a textured finish that prevents you and your passengers from slipping when getting in or out of the vehicle. Any factory floor mat retainers are repurposed to keep everything securely in place.
FloorLiner mats are available in several colors, including black, grey and tan, and include front, rear and third-row applications. WeatherTech even offers trunk and cargo area mats to help keep your car looking like new. If you are interested in keeping the interior of your vehicle clean and maintaining its resale value, drop by Ocala Car Audio and ask about WeatherTech FloorLiners. You can also reach us by e-mail using our contact page.