A recent interview with Ocala Car Audio owner Parish Tanner gave some unique insight into the story behind this great business. Read on to learn all about Ocala Car Audio history.
Growing Up with Music
Since he was born, Parish has been surrounded by music. Growing up, his parents owned a few bars that always had jukeboxes playing music. He can't remember a time when there wasn't music playing in his home. At the age of 13, he began to help run the soundboard for his church's worship team. Parish thoroughly enjoyed learning about the system and helping the worship team make the service sound great. When he was 16 years old, he got a job at WDBR 103.7 in Springfield, Illinois, as a board operator. Later on, he became an on-air DJ, going by the name Parish Priest. Music was the soundtrack of his life.
Once high school started and Parish got his first car, he began playing around with car audio. His first CD player was in his 1978 Thunderbird. He taught himself about OEM integration at a young age as he rigged his portable CD player up to the factory eight-track player in his car. He learned how to get the music he wanted in his vehicle without changing the radio. He didn't realize it at the time, but he was laying the early foundations for his career.
A Dream Come True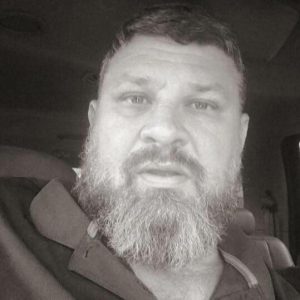 As Parish grew up and fell more and more in love with car audio, he dreamed of the day he could make his first purchase of new equipment. He had spent years purchasing used items because when you only make $2.85 an hour, it's hard to save up. Once he found the speakers he wanted to purchase at a local shop, he decided he'd do whatever he could to get them. After talking with the salesmen, they agreed to put the speakers on layaway for him. To this day, that is the reason Ocala Car Audio offers layaway to their clients. One of his closest friends to this day, Claudio, was a layaway customer more than 20 years ago.
A little further down the road, Parish installed his first "real" system in his 1986 Dodge Daytona hatchback. The Blues 10" subwoofer in his Dodge introduced him to bass – something that is irresistible to him to this day.
A First for Everything
A few years later, after a stint in the Navy, Parish moved to Florida. He decided to try to make money doing what he enjoyed. Despite no real experience in this industry and no résumé, he set out to find a job doing what he loved and went to every single car audio shop he could find. Each time a shop would turn him down, he'd ask where another one was and go there. Eventually, he met Eric Canto at Safari Audio, and Eric set Parish up with an interview with his business partner, Peter Magee.
Parish was quite broke, with very little money for gas, but he made it to the interview. After spending two hours getting to know this young man, Peter offered Parish his first job at a car audio shop. He started out doing all of the grunt work, but by being around the shop, he was learned a lot. He also made some lifelong friendships that he is grateful for to this day.
Meeting Many Valuable People Along the Way
After a period of time, Safari Audio moved Parish to their AudioWorx store, which was basically their discount site. There, he moved up the ladder to become the lead installer and then the sales and store manager. This progression allowed him to see many aspects of running a business, which has proven to be invaluable.
Over the next several years, Parish moved around a bit with his jobs. He ended up going to work in Ocala for AutoSound Addiction, helping Vern Goin open up his Ocala retail store. After Vern's store was up and running, Parish left retail and went to work for a car audio distributor. There, he learned the wholesale side of things and connected with many more retailers around Florida. That is where he met Joe Cassity of Alarms ETC. and strengthened his relationship with Omar Jawad of Sound Depot and Performance, whom he had met earlier during his time at Safari Audio.
Once again, each part of his career journey gave Parish the knowledge and experience he'd need down the road.
Learning Every Step of the Way
Parish went back and forth between retail and wholesale for the next season of his life. Eventually, he landed a job as a product specialist for a marine audio and RV audio supplier. He worked directly with the engineering departments of some of the best builders in the industry: Grady White, Regal Marine, Monterey Boats, Sea Ray, Donzi, Chris Craft, Cigarette and more. It was his job to help design the audio/video systems for the crafts, teach their staff about proper usage and installation, and then to do line audits for quality control.
During this time, Parish was even able to help a couple builders get the coveted JD Powers Award for their AV systems. He also earned his American Boat and Yacht Council E-11 Electrical certification.
The Beginning of Ocala Car Audio
In 2008, the marine industry began to decline and Parish began to lay the foundation of Ocala Car Audio. He started by securing the domain name for a website and began to work from his home as Parish Tanner Services. By the end of 2008, he had secured his first semi-retail location by subleasing a space at Arnette Tint and Signs. The owner, Earl, was the tinter to whom everyone in the area referred all of their work back in the 1990s.
In 2009, a company called Audio Pros contacted Parish to try to help turn their business around. They were in a predominantly retail location, with very poor management. He decided to work with them for a period of time to try and help them out, but after about a month, it was clear there was no helping them. Parish teamed up with one of their owners and partnered up under his company name of Ocala Car Audio. He then leveraged his domain name and Google Places page to help get them going. With all of his industry contacts, knowledge and customer service philosophy, Ocala Car Audio came into its own.
Big Changes Ahead
Ocala Car Audio continued to grow and make a name for themselves. In 2010, they were named one of the Top 50 Retailers in the country by Mobile Electronics magazine and. In 2011, they won Retailer of the Year, which is the most prestigious award in the industry.
By this time, though, some stresses in the business partnership began to show. In 2014, Parish found and secured a new building for the company and decided to sever all ties to his partner and their staff. "I felt that to meet the needs of the clients who had begun to trust Ocala Car Audio, we needed to focus on our customer service philosophy, and the best way to do this was with a fresh start," he said.
A Fresh Start in Ocala Car Audio History
To help staff the new location, Parish knew he could call on his friends. His high school friend, Jeff, moved from Texas to help out any way he could. Larry, whom Parish had worked with at AutoSound Addiction, was the owner of Ocala Tint. Ocala Tint merged with Ocala Car Audio.
Over the past few years, the team has grown and changed a bit, but now Ocala Car Audio is staffed with the best of the best.
The Ocala Car Audio You See Today
Today, Ocala Car Audio has a 5,000 sq. feet building, providing a better opportunity to house their installations. A big fenced-in back lot allows the largest RV coaches and boats to be parked and turned around easily. Recently, boats, RVs and motorcycle audio have become an increasingly larger part of their business.
Ocala Car Audio history is unlike many others. It's proven to be more than just a company. It's about lifelong relationships and the community around them. When you step foot into the Ocala Car Audio store, you'll feel like part of the family. Stop by their store in Ocala, Florida, today and check them out for yourselves. You can also contact them here for more info.